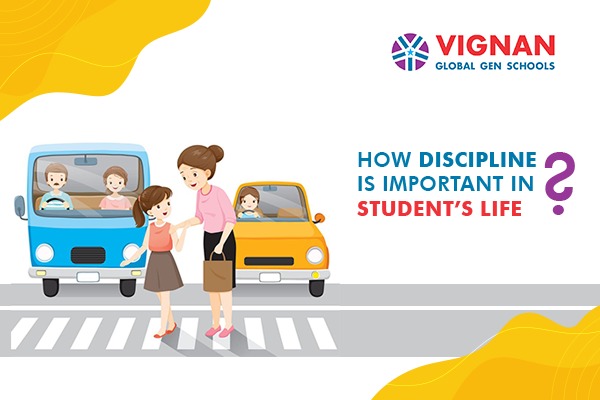 How Discipline is Important in Student's Life
Discipline is one of the most essential features of a student's life to achieve their goals. It lays a good foundation for being selective, independent, punctual, focused, encouraged, and organized. It also helps students to maintain a proper schedule of everything and prioritize their work as per its importance.
With so many distractions around them, it is easy for students to develop laziness. Therefore, the importance of discipline cannot be ignored. Discipline is a way of being honest, hardworking, motivated, and encouraged throughout their life.
Vignan, one of the best schools in Vizag explains the importance of discipline in a student's life and why it is regarded as systematic training for achieving their goals.
Why is discipline important in a student's life?
In school life, students may have a tender mind that does not know what is right or wrong. But, discipline plays a major role that helps them to go towards the right path. The following are the 7 most important points on how discipline is critical in a student's life.
Time Management

If students follow the discipline in a better way than they can manage their time efficiently. This is because they are focused and know how to schedule the time properly. Good discipline also helps students finish their tasks within the given deadlines instead of wasting time. Students can cut down on a lot of unnecessary tasks if they start being self-disciplined.

Staying Active

Good discipline generates a positive attitude in students which is the most essential thing that they need throughout their lives. It also creates confidence and eagerness that makes them improve their academic performance. Also disciplined habits such as exercising regularly, having healthy food, and sleeping on time help them stay active.

Being Focused

Discipline teaches students to be more focused and motivated towards studies as well as other fields of their life. If students do not have discipline, it becomes harder for them to stay focused on their studies. But, when students stay focused on one assignment, they are more apt to complete it with greater efficiency.

Self-Control

If the students are disciplined they are more likely to have self-control which is required to override an impulse in order to respond appropriately. The habit of self-control in students helps them to manage motivational conflicts and improves relationships. Studies suggest that self-control in students play an important role in shaping the development of self-regulation.

Relieve Stress

When students are self-disciplined and have control over time, their tasks don't get accumulated for the next day. This reduces a lot of stress and anxiety concerning studies. Staying disciplined help students to study ahead of time and not just before the exams, so they remain stress-free also get out of fear and depression.

Improves Academic Performance

Self-discipline enables an all-round learning experience which helps them cultivate the ability to process the information better. It also ensures that all academic-related activities are done organically and in time. For example, classroom discipline helps students to follow the teacher carefully and perform well in the exams which results in better grades.

Being A Good Example To Others

Discipline is always inspirational. When a student is self-disciplined in their own way, they also encourage others to make a change in their lives. This creates a productive environment on which students think, study, and also have fun. Thus, students with good discipline can influence others because it is the clearest form of communication.
We at, Vignan the top CBSE school in Vizag, believe that student discipline comes from the inherent desire to dream big and work purposefully towards achieving them. The seeds of change are inside every student but they are waiting to grow at the right time in the right place.